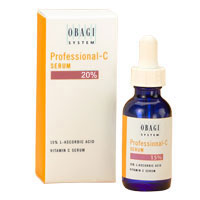 Whenever I need a break from work, or a distraction, I wander down to the other end of the building to go talk to my friend, the plastic surgeon's daughter. As you can imagine, not only is she a great resource because of her father, but she also used to work at Sephora, specifically for Vincent Longo. Just this morning, I told her about one of my recent trips to Sephora, and what the skin care consultant told me. Read it here. While she tells me I'm crazy for being concerned about wrinkles at my age, she offered her advice to help weed through the plethora of brands out there. She said her top 2 brands, recommended to her by her father, are Obagi and Skinseuticals.
She went on to say that for those of us in our 20s (and older), the best thing we can do for our skin is use Vitamin C serum because it helps the skin to become firmer and more radiant. Lucky for me, I just received a full sized bottle of the Obagi Professional-C Serum in my first Test Tube. The bottle retails for around $75-$80 and I got it, among many other things, in my Test Tube for $25 plus S&H.
She then went on to talk about the stabilization of Vitamin C, and why it's important to use a serum instead of a cream. The Beauty Bug is far from a scientist, but apparently Vitamin C is very unstable, and a lot of the nutrient is lost in the stabilization process. With a serum, much less is lost. Here's an excerpt from an article that I found while doing some research:
" However, not all vitamin C formulations can produce these benefits. Peer-reviewed clinical studies show that in order to be effective, a vitamin C formulation must contain several precise characteristics. It must contain L-ascorbic acid and be formulated at acid pH to ensure the vitamin C is absorbed by the skin. It must also contain at least a 10 per cent concentration of vitamin C and be stable." *
Obagi contains just that, 10% concentration of the vitamin and it also contains L-abscorbic acid.
*Excerpt taken from this article from Cosmetic Design.